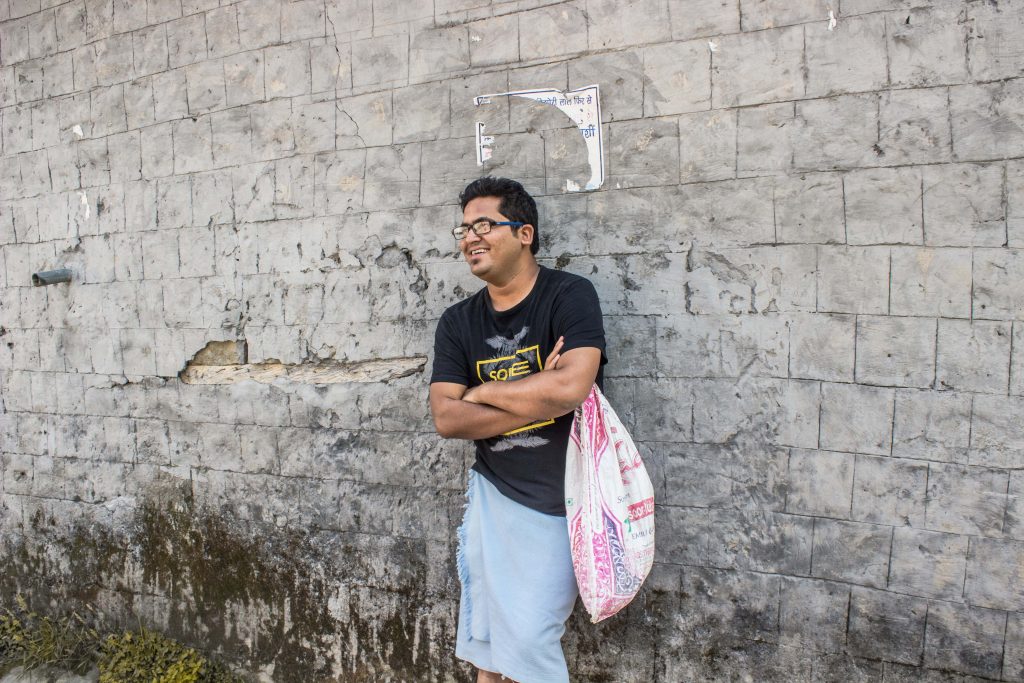 Welcome to my blog. My name is abhishek and below here is an attempt to brief about what I do, and my journey. Since I do lot of things, it becomes difficult to explain all of them verbally, and more because it's all interconnected, I find it tough to put all dots together while I tell someone. So I wrote this small bio-graph and it will take you about 5-6 mins to go through it. By then I hope you'll have fair idea of who I am and what I do 🙂
I do lot of things but mostly I spend time chilling around and relishing moments, often listening to music, having great conversations, taking pictures and thinking about playing cricket.
Like the industrial approach of agriculture, where only one type of crop is grown for acres and acres of land, most of us also live such lives where we end up doing one kind of work almost our entire life. Very early in my life I realised that I want to do lot many things, try out different genres, experiment and explore. Now I live a very 'permaculture' driven life, where multiple crops are grown together, all fostering each other's growth.
Below are some of the things I have explored and have spent decent time in each one of them to understand how they work.
Startups & Design
Though I enrolled as a Mechanical Engineer in college but ended up learning lot of computer stuff on my own, mainly design related. I was quite fascinated by things that would add lot of value to our day to day life, and how these things would work. This started my journey of internet entrepreneurship. I realised how internet is a great platform to create tangible tools through intangible resources and how quick the entire process is. I started an online education company Loremate[dot]com with a friend, a wikipedia of sorts for engineering education, which we ran successfully for about 2 years before it got shut down after we lost a legal battle with book publishing industry upon poorly written copyright laws. Through Loremate I met folks at Morpheus Gang (India's first and most successful startup accelerator) who not only advised us on our business but also invested some money to help us build the MVP.
Post shut down of Loremate, they invited me to be part of the core team at Morpheus Gang. At MG I was sharing my experience from Loremate with the startups in our new acceleration batches through Product Design and other things. Next three years were wonderfully driven, meeting fantastic entrepreneurs, talented young like minded people, getting to work on some breakthrough products and solve some real problems.
Music & Filmmaking
Then Auroville happened in 2014. Changed my life. This was a totally different genre of music that I had never heard in my life before, and it resonated so well with me that I learnt that most of my life until then was so much 'prabhav' driven (Influenced, conditioned) through my family, teachers, society and friends. I understood that how broken the upbringing of a child in our society is and that how I lost way back all those inner callings in my life, my 'swabhavs' in order to fit myself in the societal template of life. In this whole churning of thoughts, I also realised that how I have already been living few things in my life out of sheer intuition and how some of them I have explored and some not. So it turned out that Designing stuff was one of the intuitive actions that I was already living, and Music was the other intuitive action that I was not exploring at all.
So I took up music. I volunteered for few months at Svaram Musical, Auroville, breaking and making musical instruments and playing a lot. Met fantastic musicians from around the globe who were visiting there, learnt a lot about open tunings and how music/sound can be healing too.
During the same time when I was going through this spiritual shift, my other team mates at Morpheus were also going through a similar shift but in their own ways. It appeared that some interesting energy was dwelling amongst us that came like a wave and washed all of us together. It was finally in 2015 that we all unanimously decided that we don't want to keep doing Morpheus for the rest of our lives, and that it's time we all explore our other callings that will eventually help us grow inwards too. We have a decent portfolio of startups that we still continue to manage, each one of us dedicates few hours every month for certain tasks to run the existing stuff, but we stopped taking any more startups in the accelerator.
So while I was exploring music, I met the next anchor to my journey, a friend who was writing a script for his first film. The moment I read that script, I realised how much I want to see this film on screen. That made me ask him if I can volunteer to help on any thing and see how this film will be made. Over a 15 mins meeting – that went on gladly for three hours where we chatted on films and music, and Mani Ratnam and Dil se and Ram Gopal Varma and AR Rahman, – I realised that this is exactly what I want to do now and this is how Asmad happened to me.
All of it & lots of other things
At present, I am working on my first directorial documentary venture, Musica Vita (music of life). It's a musical documentary, where I got to blissfully merge my two favourite things, music and filmmaking. The journey is long but I am really really enjoying it.
On the parallel I am also an advisor to few companies, where I share my experiences in design, strategy and common sense 😉 This also helps me generate some capital to sustain my living and filmmaking efforts.
I also play cricket weekly with a club that some of us friends formed together.
I really don't have any goals in my life. For now, I only look forward to finish my documentary and keep helping the organisations that I am part of.
All is perfect in the grander scheme of things 🙂
There are plenty other things that I enjoy doing, let's talk about that over a nice conversation. You can reach out to me at gargology@gmail.com